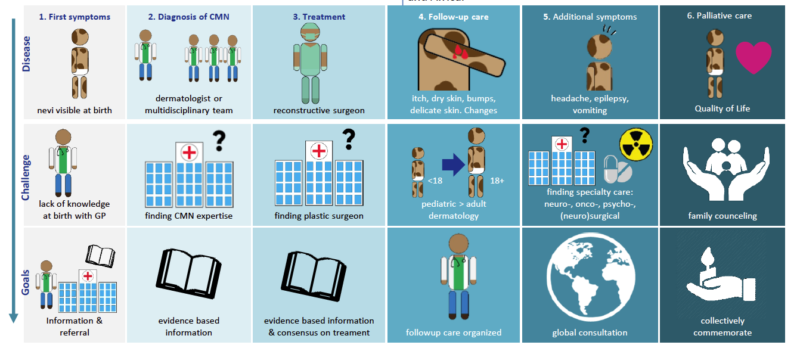 The SKIN ePAG is developing Patient Journeys , visual testimonies that reflect the natural history/needs of patients and their families for a specific rare disease. They represent the collective perspective on the burden of the disease and the needs of people with first-hand experience of living with a rare skin disease.
It aim to :
Engage the wider patient community to consolidate common needs for a specific rare disease
Engage in a discussion with the clinicians to highlight the different (unmet) needs of a specific rare disease, both medical and psychological, so the clinicians can respond to these needs
Keep in mind both the professional and patient are experts
The patient journey of the following diseases are already available !
Please find here the links to the patient journeys and the sites of the patient associations who carried them out.
Methodology

Mapping the journey and identifying the needs and recommendations on ideal care  for each specific skin disorder across the different stages from the first symptoms at birth to the end of life care
Reviewing by both ePAG advocates and clinical experts (clinical presentation validated by some clinicians)
Organising the information in easy reading graphics (table and illustration)
Identifying the needs that are common for all 'skin disorders' (next steps)