EB – Inherited Epidermolysis Bullosa and skin fragility syndromes – Darier disease – Hailey-Hailey disease
Chair of the thematic group
Christine Bodemer (APHP – Necker Enfants Malades)
Chair of the thematic group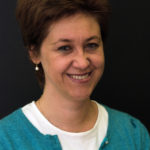 This thematic group focuses on inherited Epidermolysis Bullosa and skin fragility problems. There are multiple hereditary forms of Epidermolysis Bullosa due to fragility of the skin structure and other tissues like mucous membranes or other internal organs. They result in the formation of blisters on the tissues which appear very easily after small traumas or frictions.
These conditions are due to different defective genes involved in the maintenance of the structural stability of the skin layers and attachement between them. The following major types of inherited Epidermolysis Bullosa have been identified as such : EB simplex, junctionalis EB, dystrophic EB and Kindler syndrome.
The variety of forms leads to a variety of prognoses. There is no cure for these disorders therefore the major issue is to protect the patient from additional traumas of their tissues, requiring multidisciplinary care (wound care, psychological support, pain management, nutritional support, oncology, dental care and even surgery or skin transplantation). In order to provide the best patient management, a thematic group facilitating the coordination of these many specialties was necessary.
As the different forms of inherited Epidermolysis Bullosa are genetic conditions due to defective genes, there is also another form of Epidermolysis Bullosa called « acquisita » which is not genetic. That particular condition is treated by the thematic group « Autoimmune Bullous Diseases »
In addition to inherited Epidermolysis Bullosa, other skin fragility syndromes involving desmosomal diseases and peeling skin syndromes are now also part of the thematic group.
Participating Reference Centres
[mashup width="100%" height="800" adaptive="true" query="category__in=15"]