BUR-EB is a joint initiative of expert centers for public health economics and for rare skin diseases in particular EB in strict collaboration with the EB patients associations DEBRA International and the national DEBRAs.
The study is addressed to individuals with EB and their families and will be carried out in six European countries (Bulgaria, France, Germany, Hungary, Italy and Spain)
For more information click here
EJP – EUROPEAN JOINT PROGRAMME ON RARE DISEASES
This programme is composed of 130 institutions, including all 24 ERNs from 35 countries. It was launched in January 2019 for 5 years
Main goal:
To create a comprehensive, sustainable ecosystem allowing a virtuous circle between research, care and medical innovation on Rare Diseases, ensuring rapid translation of research results into clinical applications and uptake in healthcare for the benefit of patients.
EJP RD two major objectives:
To improve the integration, the efficacy, the production and the social impact of research on RD through the development, demonstration and promotion of Europe/world-wide sharing of research and clinical data, materials, processes, knowledge and know-how
To implement and further develop an efficient model of financial support (specific adapted calls) for all types of research on RD (fundamental, clinical, epidemiological, social, economic, health service) coupled with accelerated exploitation of research results for benefit of patients
ERICA – EUROPEAN RARE DISEASE RESEARCH COORDINATION AND SUPPORT ACTION
The aim of the ERICA consortium, in which all 24 European Reference Networks (ERNs) take part, is to build on the strength of the individual ERNs and create a platform that integrates all ERNs research and innovation capacity.
Through knowledge sharing, engagement with stakeholders in the rare disease domain and assembly of transdisciplinary research groups working across the global health spectrum, ERICA strives to reach the following goals: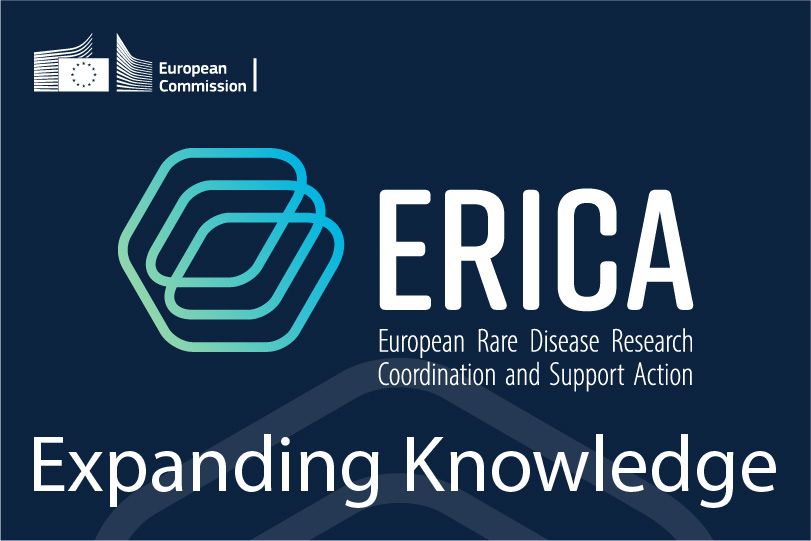 new intra- and inter-ERN rare disease competitive networks;
effective data collection strategies;
better patient involvement;
enhanced quality and impact of clinical trials;
Increased awareness of ERNs innovation potential.
ERICA will strengthen research and innovation capacity by the integration of ERN research activities, outreach to European research infrastructures to synergistically increase impact and innovation. This will result in efficient access and safe therapies for the benefit of patients suffering from rare diseases and complex conditions.